What are the Kinetic Methods?
The Kinetic Methods is A Best Impression's unique 7-step approach to advanced job search that gives your job search energy and momentum by prioritizing strategy and logic. Each step is simple and designed to build on the previous step, and when completed in total, helps professionals master a unique and effective approach focused on the creation of their marketing materials while concurrently preparing the applicant for the job interview and ensuring the candidate lands at a company that matches their own values. These materials brand the job seeker in a positive way and appeal to a hiring manager, and result in booking interviews for jobs that align with each applicant's values and goals.  

Can the Kinetic Methods help me?
The most positive results come from mid-level professionals, people that can access at least 10 years of work experience to create relevant resume content.  These are job seekers who are not looking for a shortcut but to master a repeatable strategy and approach that will create materials befitting of their experience that communicates their desire to do the job and their experience to solve the problems the role requires. These include:
Career Upgraders
Mid-career professionals who want to master crucial job search skills prior to starting their search for growth opportunities in their same industry so they approach the efforts with confidence and current best practices.
    2.

Job Search Preparers
Mid-career professionals who have not created or updated job search materials in 5 years or more and realize that what worked to land interviews back then is not working now.
    3.

Urgent Job Seekers
Mid-career professionals that have an immediate need for a new role and they're either unprepared to apply with confidence or what approach they are using isn't getting the necessary or expected results.
    4.

Career Transitions
Mid-career professionals that have reevaluated their goals and values and want to prepare new materials that better reflect their abilities to work in a new industry.
What results can I expect?
You will learn the strategy behind and the what, how, and why of successful, effective marketing materials creation in order to secure job interviews.
You will learn a reliable and repeatable method to create effective job search materials quickly that are befitting of your years of experience and skills.
You will create your own marketing materials, including LinkedIn, resume, and cover letter and understand how to create them on your own going forward.
You will increase your own self-awareness of your values and needs and gain confidence to prioritize them.
You will receive expert instruction, support, and accountability to ensure you understand all of this and produce these results for yourself.
What is Walk the Walk?
Walk the Walk Pro is an advanced web-based 6-step resume creation approach created by A Best Impression and specifically designed to help mid-level professionals create resumes that are befitting of their experience, stand out to hiring managers, and sail through Applicant Tracking Systems, all with the goal of helping you land interviews for jobs you want.  
It is designed to help professionals and job seekers who:
apply for jobs but don't get called for interviews

do not know how to write for applicant tracking systems 

want to transfer their experience to a new industry

struggle to talk positively about themselves

don't know what information to include or how to spotlight it

would rather not apply for a job than go through an application process
Walk the Walk Pro is not a shortcut. It takes effort, and effort is obvious to hiring managers. You're in the right place if you value and pride yourself on standing out from the crowd and value how what you put your name on represents you.
How much does learning the Kinetic Methods cost?
There are a variety of popular packages detailed here, and customized packages are available to address your individual needs. For example, a single module, like Interview Preparation, is available. 
Please review the available coaching and package options below.  Note that The Comprehensive Package does not include Interview Preparation.
When you are ready, book a time for us to get introduced or ask questions here or get started by booking the appropriate package here.
Do the Kinetic Methods work?
Read recent and candid testimonials from recent customers.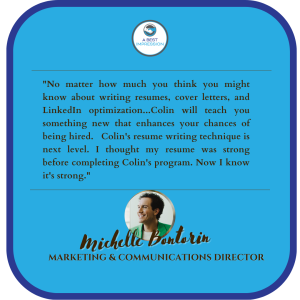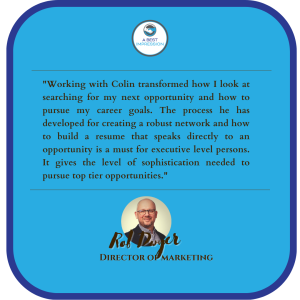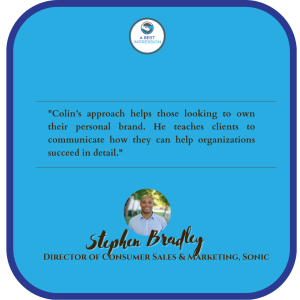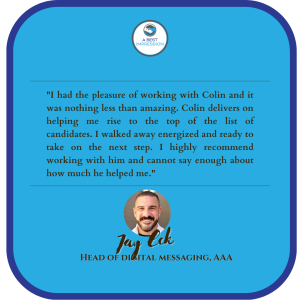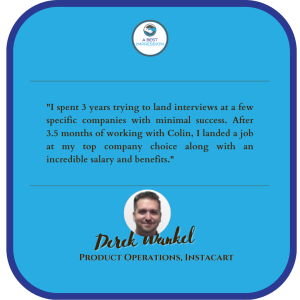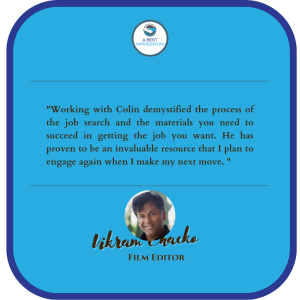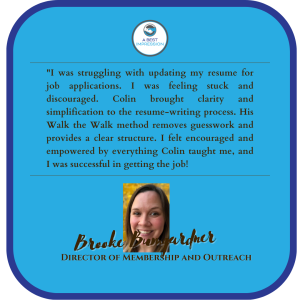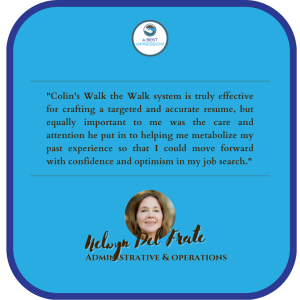 and check out LinkedIn testimonials on Colin's profile!
The History of A Best Impression, Kinetic Methods, and Walk the Walk
Hi, I'm Colin Murphy, the founder of A Best Impression and the creator of the Kinetic Methods, including the resume writing product, Walk the Walk Pro.  As a former marketing and sales professional-turned-job search instructor for JVS.org's Job Search Accelerator program in San Francisco, I had the unique opportunity of teaching crucial skills and confidence boosting exercises to 25 mid-level professionals each month. I quickly noticed that my job seeking students faced similar challenges that were holding them back regardless of their industry, title, or skills. After identifying these patterns, I created logical solutions that incorporated logic, sales, marketing, and psychology and made a strong impression of the job seeker throughout the process and provided interview preparation from the start, and then iterated these solutions each month to increase the hiring rate of the job search bootcamp graduates.  
What do clients learn?
A Best Impression clients:
gain a new self-awareness and confidence in their ability to deliver and make an impact 

know why they and a potential employer fit each other 

have knowledge to identify where they'll thrive and confirm if that's true before applying 

understand how their materials represent them and shaping them to make a positive impression that prioritizes a hiring manager's experience

and the confidence to walk away
Those solutions became the basis of A Best Impression, my job search strategy consulting practice which launched in 2016. This is when I created Walk the Walk, my proprietary product, which is an advanced resume writing process that requires deep thought and reflection and time in order to truly showcase relevant skills and present them in a way that helps resumes stand out to a hiring manager among equally qualified candidates after addressing the barriers of the Applicant Tracking Sy stems. Based on its success and ease, Walk the Walk is preparing to launch as a web-based product that will allow me to scale my reach beyond my one-on-one clients. Using the success of landing interviews at target companies, I created the Kinetic Methods.  These are my unique approaches to the seven parts of a job search, and they are always evolving to be better.
What Makes A Best Impression's Kinetic Methods different?
What makes my practice different from other coaches is the unique way the methods originated and are taught.  By focusing on creating solutions that address not only the 'what' to do, but also the 'how' and the 'why' to do it to overcome the challenges clients are facing across industries in real-time, my methods stay up-to-date on current trends and address those needs immediately.  The experience between clients is seldom the same, as each client sets a pace they are comfortable with to learn, and I'm frequently focused on improving efficiency and effectiveness through improved exercises and resources.
What do I consider the needs of an unmet market? 
I consider the missing element in job search to be a return to effort.  Resume solutions continue to trend towards saving more time for the customer, implying that a fast application is more efficient.  I disagree. Working with mid-level professionals as my clients, I work to instill pride in the materials that we place our names on, that represent us to others whose job is to evaluate us. I meet the needs of these job seekers by showing them how to produce these materials themselves, incorporating the logic, the self-marketing, and the customer journey necessary to make an impression that allows the hiring managers to recognize these outstanding efforts and make informed decisions as a result of them. My practice is for those that value their reputation and not shortcuts.  The process does get faster the more you practice, but you still have to learn it.  That's what I do and that's why my clients do get interviews for jobs that excite them and meet their needs. I'm fulfilled by seeing clients move from a defeated mindset to one of confidence when they receive these tools and support and the accountability they need to make these changes happen and get the desired results.
Let's Talk!
Does this sound like the type of help you need to get the job you want?  If it does or if you have questions to make sure it does, book a free consultation to get your questions answered and determine if Colin and the Kinetic Methods are the right fit for you.